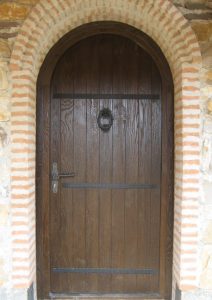 The material used for making entry doors is laminated wood (oak and spruce).
Entry doors in buildings can be made of solid wood combination with medium density fiberboards.
Factors that are crucial for pricing, beside the material, are model, type of the door knob (classic, semi-security and security), final processing and installation (depending on the location).
Standard price depends on the model of the door, material and final processing. Door knob with cylinder, at least four hinges, gasket rubber and the door frame 6x7cm are included in the price. There are also finishing angle boards on both sides of the door frame, as well as a doorstep which is the same width as the door frame. Entry doors are varnished with special coatings which are water and UV resistant.
Standard price does not include door handles, lights and additional semi-wing. Like interior doors, we make entry doors according to your design and in that case the price is higher due to additional work.
You can contact us via the online contact form for any information, questions or orders
"ENTERIJER" SZR
Karađorđeva 61
21208 Sremska Kamenica
SRBIJA
BUSINESS HOURS
Monday-Friday:
08:00 - 14:30
Saturday:
08:00 - 12:00
Sunday - closed.