ENTERIJER SREMSKA KAMENICA
The company "Enterijer" manufactures a full range of wood products, wood facades and interior woodworks, stairs of all styles and types, furniture pieces, kitchens, and exclusive mosaic parquet.
We have a large stock of high quality materials, which carefully selects, dry in our own drying hall , and with further process of production finally complete.
Our products are made with the latest technologies, but we often used the manual operation, and remain consistent with tradition and philosophy of creating a recognizable products that meet the sophisticated tastes of our customers.
Each phase of production is under strict quality control which guarantees the correctness and durability.
In the design phase we paid full attention to esthetics, but also on all the technical details, and create a product after which we proudly stand. Respecting deadlines, shewing respect for customers, because of our satisfied customers – are the best ads.
The range of products is wide, and only Your and our imagination are limits of possible and feasible, because our team of professional and experienced people, all easily turns ideas into reality.
"Enterijer" standard work with approximately twenty employees, on approximately 1.200m2 of work space.
We have long tradition of forty years, and in the region we are synonym of quality.
The company was founded by Petar Drazic on 28th April 1966 under the name "Kolar".
In 1993, Petar's son Djordje Drazic took over the company and changed the name into "Enterijer".
Since the beginning, the workshop has been manufacturing a wide variety of wood products.
At the beginning of 1970's the company specialized in manufacture of spiral stairs, custom crafted stairs and expanded the production in wood facades and interior woodworks.
n 1980's and at the beginning of 1990's the company covered 80 percent of the ex-Yugoslavian market in spiral stairs production. In 1990's the company's product line was expanded into manufacture of solid wood furniture pieces, kitchens, mosaic parquets…
At the end of 1990's the workshop started to deal with engineering and furnishing the entire premises.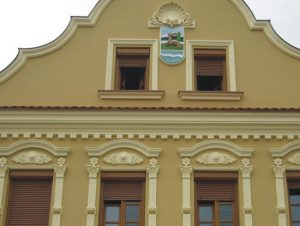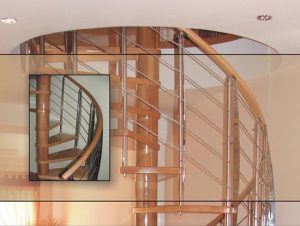 The company gradually developed and expanded, and the desire for constant achievements, being open for new ideas and improved technical solutions resulted in high quality products.
By tracking the needs of the market and with visionary ideas, we hope that we will continue to be at the top of our branch and also expand the cooperation with foreign markets.
At all time, "Enterijer" has a stock of 300 cubic meters of wood material: spruce, linden, beech, steamed beech, maple, cherry, ash, oak, acacia, nut… which is dried in our own 45 cubic meters capacity driers, at appropriate humidity percentage of 8-12%.
We also have a stock of medium density fiberboards, veneer wood, craft-master coatings and others. In the woodworking we use several types of glues which are imported from Germany, depending on the product.
After processing on different machinery, the product is transferred to a coloring chamber which has optimal conditions for such procedure.
We use high quality coloring from a number of prominent Italian producers. Lastly, the product is measured and final processing is carried out for the customer, due to the specific characteristic of each product. Our products are kept and stored until shipment.
Transportation and installation are carried out as agreed with customers.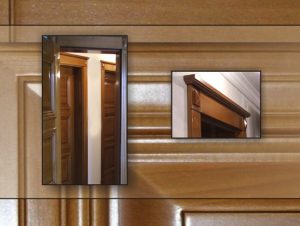 You can contact us via the online contact form for any information, questions or orders
"ENTERIJER" SZR
Karađorđeva 61
21208 Sremska Kamenica
SRBIJA
BUSINESS HOURS
Monday-Friday:
08:00 - 14:30
Saturday:
08:00 - 12:00
Sunday - closed.